"My family has three cows, and each cow produces 100 kilos of cow dung per day. In one day, there are more than 300 kilos of cow dung. The 300 kilos of cow dung produced by the biogas family cannot be used, except for cooking. In addition, we can bathe and wash our clothes." On August 15th, Yang Changming, a villager in 5 groups of Hejiaping Village, Mingshan Town, told the author when he added cow dung to his own biogas digester. "Since last year I've raised cattle, my family's corn, The crops of rice, wheat and other crops are no longer firewood, they are used to feed cows, and they use cow dung to produce methane gas to solve the problems of cooking and bathing, which are both energy-saving, money-making, and environmentally friendly.Now, the kitchen in the home is clean. Unlike the previous years, when the firewood was everywhere, the entire village had not heard the smell of cow dung and urine."
According to the director of the village and village, Luan Guanglin told the author that in recent years, the village has vigorously developed the animal husbandry and aquaculture industry. Two leading companies, Guangming Foods and East China Breeding Company, have been involved in cattle breeding. The total investment is 30 million yuan. This year, 6,000 beef cattle can be slaughtered. Pigs, rabbits and wild boars have now developed into an animal husbandry area with an annual output value of 150 million yuan. At the same time as the two beef cattle breeding farms are cultivating themselves on a large scale, they also implement the company's method of adding farmers and sign a farming agreement with the farmers to allow the farmers to support the farms. Each peasant household raises two or three heads and earns 6,000 to 8,000 yuan a year. There are 359 peasant households in the village, and the maximum number is 100. In order to solve the problem of cow urine pollution, the village also encouraged farmers to build biogas digesters. There are now 212 households using biogas in the village. At present, all of the village's cow dung is sold to edible fungi farms as raw materials.

According to the relevant staff of the County Environmental Protection Bureau, the largest pollution in rural areas is pollution from surface sources, especially in recent years, with the continuous development and expansion of the aquaculture industry, non-point source pollution is also increasing. The production of biogas using the excrement of pigs, cattle and sheep not only solves energy problems, but also effectively solves the pollution problem. This is not an energy-saving and environmental protection industry. The practice of the Hejiaping breeding community is worth promoting.


main feature

1.ZF series of reflective shadowless lamp is widely used in various occasions operation lighting needs, is the ideal lighting equipment of modern operation room.

2. Full close streamline lamp body design completely meets the demand of the sterilization and high standard of laminar flow purification in operation room.

3. Adopting more than 5280 slices of reflection mirror, guaranteeing 1200 mm lighting depth.

4. Special design of color temperature compensation provides closer to that of natural sunlight and helps the doctor to distribute operation parts clearly and accurately.

5. The back-up battery will start work within 0.2 seconds automatically in case the main battery is damaged,ensuring the continuation of surgical operation. There`s failure indication in the handle control panel, to recommend the bulb to be changed after operation.

6. detachable handle jacket ,can be used for high temperature (≤134℃)sterilized.

7. Digital-control circuit offers many functions, with 10 segment brightness selection stepless lighting regulation, brightness memory, low voltage

start-up and power on self test etc.

8. The life-span of OSRAM halogen bulb is up to 1500 hours; the bulbs can be changed easily.

9. Germany ORSAM lamp socket,thermostability

10.Balance arm can be optional Germany imported or domestic.

11. mould Die-casting Eight edge type Revolving arm.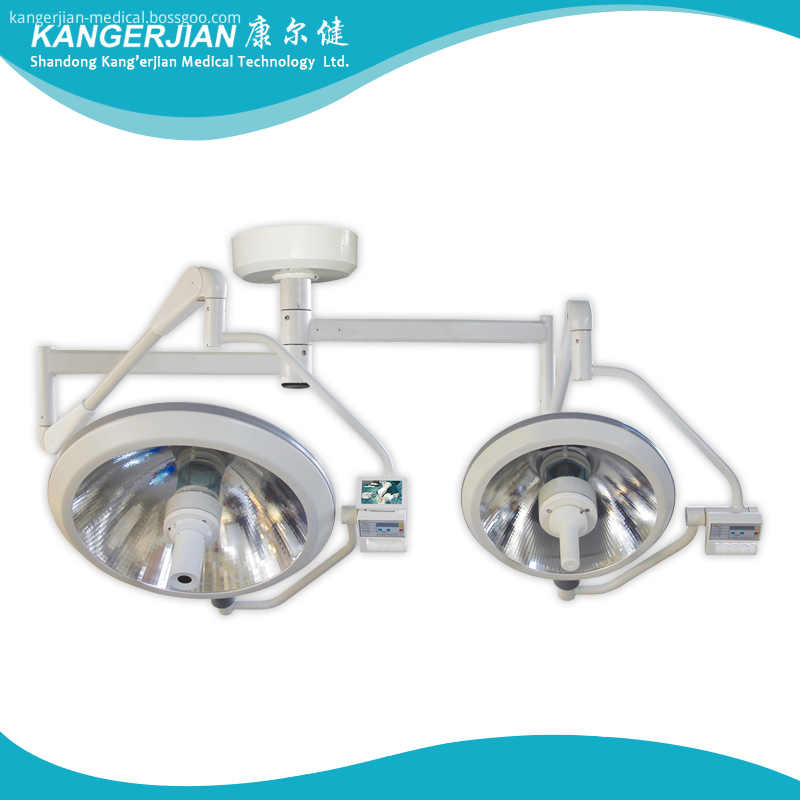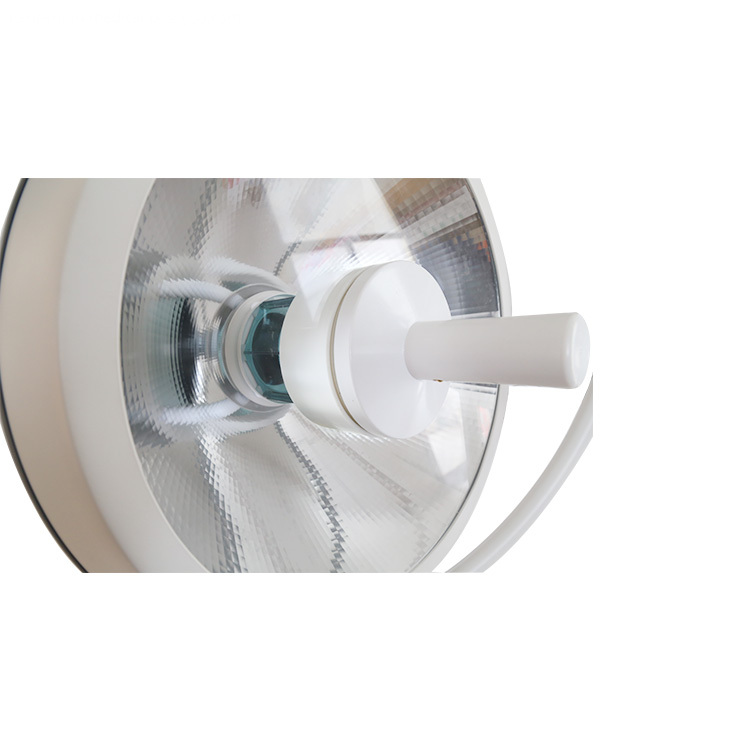 Double Dome Halogen Operating Light

Double Dome Halogen Operating Light,Double Dome Halogen Operating Light,LED Halogen Light,Double Dome Halogen Operating Lamp,Double Dome Operating Lamp

Shandong Kang'erjian Medical Technology Ltd. , https://www.operatingtable.nl